DAVEY HAVOK BARES ALL IN SEXY NEW ANTI-LEATHER AD
Rock Star Strips Down for PETA US Campaign Urging Fans to Ditch Animal Skins
For Immediate Release:
7 December 2016
For Immediate Release:
Singapore – After delivering decades of genre-bending music, Davey Havok is getting behind the mic again – this time in the buff for a steamy new anti-leather ad campaign for PETA US. The legendary lead vocalist for AFI, Blaqk Audio, and XTRMST appears naked beside a microphone and the words "I'd Rather Go Naked Than Wear Leather. Rock the Skin You Were Born In. Let Animals Keep Theirs".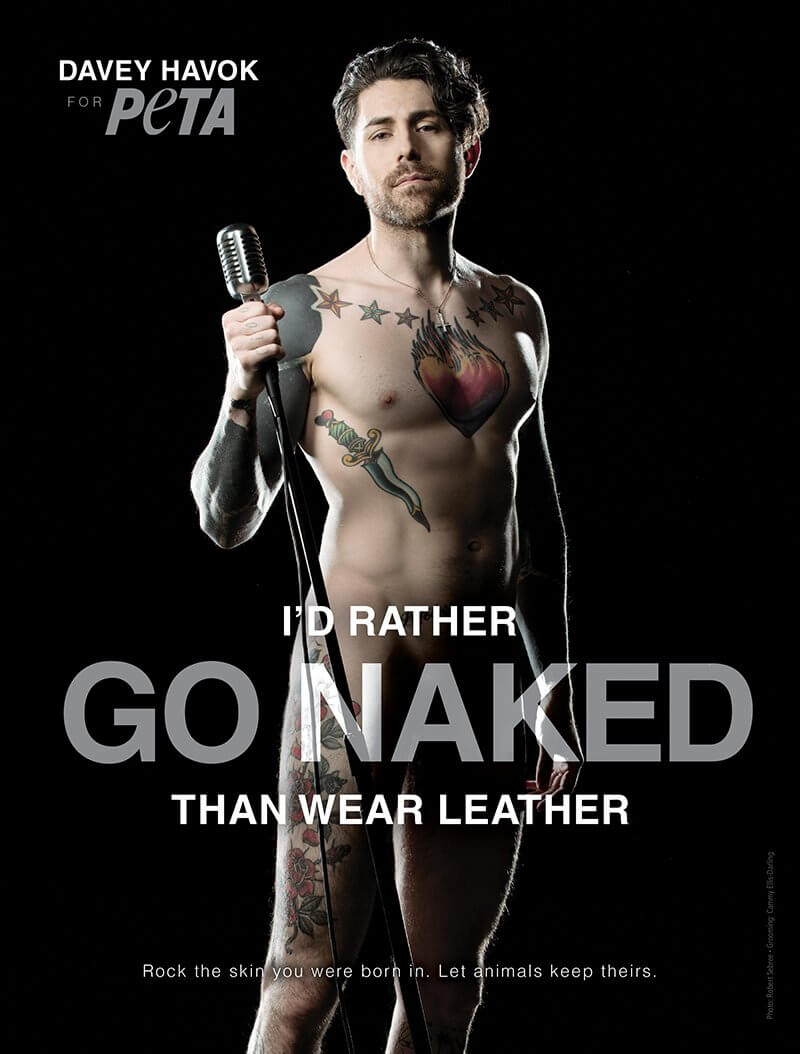 In an exclusive video for PETA US, Havok notes that many shoppers have become desensitised to the real cost of clothing made from animal skins. "I was raised on rock 'n' roll, like many people, and the leather jacket was a part of that culture", he says. "But no article of clothing, feeling of confidence, or otherness is worth the torture or the murder of an innocent creature."
Havok goes on to discuss the harsh environmental impact of producing leather, a coproduct of the meat industry, which includes the massive carbon emissions of cattle and the toxic tannery chemicals that pollute nearby water supplies: "[I]f you are wearing leather while not eating animals, you're still contributing to the destruction of … the ecosphere."
In addition, leather frequently isn't labelled. A recent PETA exposé of the thriving dog-leather industry in China revealed that dogs' throats are slit and their skin is peeled off for fashion products that are exported around the world. "You don't know which animal died to make your shoes or your belt", says Havok. "You … could very well be wearing dog leather or cat leather, and that's horrifying."
PETA – whose motto reads, in part, that "animals are not ours to wear" – notes that cows killed for leather endure extreme confinement and castration, tail-docking, and dehorning without painkillers before finally being dismembered and skinned alive.
Havok joins a long list of musicians – including Tony Kanal, Dave Navarro, Tommy Lee, Travis Barker, Paul McCartney, P!nk, Trent Reznor, and Morrissey – who have teamed up with PETA to promote kindness to animals.
AFI just announced a 20 January 2017 release date for its highly anticipated new album, AFI (The Blood Album). The quartet – which includes Havok as well as guitarist Jade Puget, bassist Hunter Burgan, and drummer Adam Carson – is previewing the album with the release of two new tracks, "Snow Cats" and "White Offerings", both of which can be streamed on AFI's official site. Havok is also known for his work with acclaimed electronic duo Blaqk Audio, whose latest album, Material, hit number one on Billboard's Top Dance/Electronic Albums chart.
For more information about the cruelty of the leather industry, please visit PETAAsia.com.
#