Meet the 2013 Sexiest Vegetarian Celebrity Winners!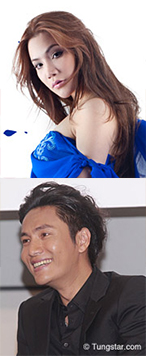 Vietnamese singing sensation Hồ Quỳnh Hương has been crowned Asia's Sexiest Vegetarian Woman of 2013, while singer and actor Chen Kun of China won the title of Asia's Sexiest Vegetarian Man. Actor Isabelle Cornish was declared the Australian winner.
Hồ Quỳnh Hương is famous for her sensual and unique voice, which helped her win Most Favorite Singer at the Lan Song Xanh Music Awards four years in a row. She was also nominated for Singer of the Year at the 2012 Commitment Awards.
Chen, a singer and an A-list actor originally from Chongqing, first expressed his determination to adhere to a vegan diet on a social-networking site. He has won a Hundred Flowers Award for Best Actor and Huabiao Award for Best Actor and was nominated for Best Actor at the Golden Horse Awards.
"I used to force myself in a strict diet to keep my weight stable when I was on a meat-based diet, but this is no longer my concern now. Ever since I adopt the vegetarian diet, my weight is kept under control without any extra fat," says Hồ. "Besides, my skin conditions are also better. My professional make-up artist also comments that my skin brightens up easily with just a soft layer of make-up."
Cornish—a dedicated vegan and the sister of fellow vegetarian and former contest winner Abbie Cornish—is an up-and-coming actor who is best known for her roles on Network Ten's Puberty Blues and Home and Away. During the filming of Puberty Blues, she requested a vegan meat pie for a scene in which her character ate an Aussie meat pie on the beach.
Other popular contenders in the poll include author Zheng Yuanjie and his son Zheng Yaqi; musicians Faye Wong, Zheng Jun, John Butler, Xavier Rudd, and Khalil Fong; model-turned-Hollywood hottie Maggie Q; and actors Abbie Cornish and Sophie Monk.
Want to do your part to help animals and become as sexy as our winners? Take PETA's 30-Day Pledge to Be Veg today to explore a vegetarian diet for one month, and we'll e-mail you our favorite recipes as well as tips on making the switch to a vegetarian diet.
Below is the complete list of vegetarian celebrities who were in the running.
Women

Abbie Cornish
Adalita
Aimee Teegarden
Alicia Mayer
Alicia Silverstone
Alyssa Milano
Amanda Griffin Jacob
Amrita Rao
Angela Blardony Ureta
Angela Simmons
Anne Hathaway
Ashley Judd
Axella Johannesson
Aya Liu
Ayesha Takia
Bonnie-Jill Laflin
Brigitte Bardot
Cara G
Carol Leifer
Carrie Underwood
Charli Robinson
Chin Chin Gutierrez
Chrissie Hynde
Christian Serratos
Christie Brinkley
Christina Applegate
Christine Taylor
Cloris Leachman
Courtney Stodden
Cynthia Alexander
Daniela Sea
Daniella Monet
Daphne Oz
Daryl Hannah
Deni Hines
Diane Keaton
Diane Warren
Ellie Sursara
Elizabeth Berkley
Eliza Dushku
Ellen DeGeneres
Ellen Loo
Emily Barclay
Emily Deschanel
Emmylou Harris
Erykah Badu
Esha Gupta
Faye Wong
Fiona Apple
Fran Drescher
Fu Chong
Geneva Cruz
Hannah Teter
Hema Malini
Hồ Quỳnh Hương
Imogen Bailey
India.Arie
Isabella 'Bella' Heathcote
Isabelle Cornish
Isabel Lucas
Isabel Roces
Jade Kwan
Jane Velez-Mitchell
Janis Chan
Jenna Dewan Tatum
Jessica Chastain
Jessica Napier
Jessica Paré
Jinri Park
Joan Jett
Joey Meng Yee Man
Jorja Fox
Joss Stone
Judith Durham
Juliana Palermo
Julia Sniegowski
Kaley Cuoco
Kara Jayne, aka "KJ" (The Art)
Kay Tse
Kellie Pickler
Kimberley Chen
Kristal Tin
Kristen Bell
Kristen Wiig
Kylie Bax
Lake Bell
Lara Dutta
Layne Beachley
Lea Michele
Leona Lewis
Lisa Edelstein
Long Kuan
Lougee Basabas
Lucy Davis
Maggie Q
Mahima Chaudhry
Mallika Sherawat
Maria Ana Consuelo "Jamby" Madrigal-Valade
Maricel Laxa-Pangilinan
Marieke Hardy
Mayim Bialik
Melissa Etheridge
Meryll Soriano
Michelle Pfeiffer
Mischa Barton
Missy Higgins
Monica Dogra
Monica Mok
Myf Shepherd
Natalia Villaveces
Natalie Portman
Neha Dhupia
Nityalila Saulo
Nominjin
Olivia Wilde
Pamela Anderson
Patricia De León
Persia White
Pippa Black
Poorna Jagannathan
Portia de Rossi
Radha Mitchell
Raya Mananquil
Renee Olstead
Robin Quivers
Rooney Mara
Sadie Frost
Sandra Seifert
Sara Gilbert
Sarah Silverman
Shamita Singha
Shania Twain
Shannon Elizabeth
Sheridyn Fisher
Siriyakorn Pukkavesa
Sophie Monk
Stella McCartney
Stephanie Ashworth (Something for Kate)
Steph Davis
Stephy Tang
Taasha Coates (The Audreys)
Thora Birch
Tian Yuan
Trương Thị May
Uka (Kiwi)
Vida Guerra
Vidya Balan
Việt Trinh
Võ Hạ Trâm
Wanfang Lin
Wang Like
Wendie Malick
Yasmien Kurdi
Yaya Meng
Zeng Li
Zhang Xiaomei

Men

Alan Cumming
Amitabh Bachchan
André 3000
Andrew G
Ash Chandler
Ash Grunwald
Azaria Byrne (The Art)
Bill Clinton
Bill Kaulitz (Tokio Hotel)
Biz Stone
Blue Lan
Bob Barker
Bryan Adams
Cameron Adler (Tonight Alive)
Casey Affleck
Chen Kun
Chris de Cinque (Closure in Moscow)
Chris Harding (The Black Stars)
Chris Lilley
Chris Ross
Cory Booker
Đại Nghĩa
Damian Marley
Daniel Johns
Darren Cordeux (Kisschasy)
Darren Hanlon
Dave Rastovich
Dax Shepard
Dhanush
DJ Snair (Social Change)
Dominic Simper (Tame Impala)
Forest Whitaker
Funkwig (Social Change)
Geezer Butler
Georges Laraque
Glenn Richards (Augie March)
Gordy Forman (Frenzal Rhomb and Mindsnare)
Greg Chappell
Gregg Turkington, aka "Neil Hamburger"
Hà Okio
Huang Junpeng
Israel McDean (Antagonist A.D)
Jackie Lui
Jack Johnson
Jake Hardy (Tonight Alive)
Jake Shields
James Cameron
James Cromwell
Jamie Mildren (Architecture in Helsinki)
Jared Leto
Jason Mraz
Jason Schwartzman
Jason Whalley (Frenzal Rhomb)
J.D. Fortune
Joaquin Phoenix
Joel Birch (Amity Affliction)
John Butler
Johnny Galecki
John Salley
Jona Weinhofen (I Killed the Prom Queen)
Josef Brown
k-os
Kevin Eubanks
Kevin Nealon
Khalil Fong
Kris Bosman (Antagonist A.D)
Lav Diaz
Li Yixiang
Lindsay McDougall, aka "the Doctor" (Triple J/Frenzal Rhomb)
Mac Danzig
Marco Fu
Martin Dingle-Wall
Masami Akita
Masta Killa
May-T Noijinda
Michael Bolton
Michael Franti
Michael Guy Chislett
Mike Farrell
Mike Ness
Mike Tyson
Mike White
Milo Ventimiglia
Mitchell Scott (Cut Copy)
Moby
Morrissey
Mos Def
Murali Kartik
Owain Yeoman
Pankaj Advani
Paul McCartney
Peter "Blackie" Black
Peter Dinklage
Peter Siddle
Phil Collen
Prince
Qu Quancheng
Rahul Sharma
Raymond Bagatsing
Richard Linklater
Rich Roll
R Madhavan
Russell Brand
Russell Simmons
Ryan McPhun (The Ruby Suns)
Sam Crocker (Antagonist A.D)
Shahid Kapoor
Shashi Tharoor
Shaun Micallef
Shengo Deane
Social Change (Emcee of Social Change)
Sonu Sood
Stephen Chan Chi-wan
Steve Kilbey (The Church)
Steve-O
Steve Martin
Sunplaza Nakano
Thanh Bạch
The Rev. Al Sharpton
Thom Yorke
Tim Hoey (Cut Copy)
Tobey Maguire
Tom Crease (Frenzal Rhomb)
Tom Kaulitz (Tokio Hotel)
Travis Barker
Tristan Goodall (The Audreys)
Vidyut Jammwal
Vince Jones
Vivek Oberoi
Weird Al Yankovic
Woody Harrelson
Xavier Rudd
Xie Zheng
Zhang Yi
Zheng Jun
Zheng Yaqi
Zheng Yuanjie