Natalie Imbruglia in New PETA Anti-Fur Ad
What's the difference between a full-length fur coat and just a little fur trim? Nothing, says famed Australian singer, actor, and model Natalie Imbruglia, who took time out of her busy schedule to pose for a sexy anti-fur ad for People for the Ethical Treatment of Animals (PETA). In the ad, Imbruglia is holding a rabbit to her naked chest next to the tagline "Tell Him It's Just a Little Fur Trim."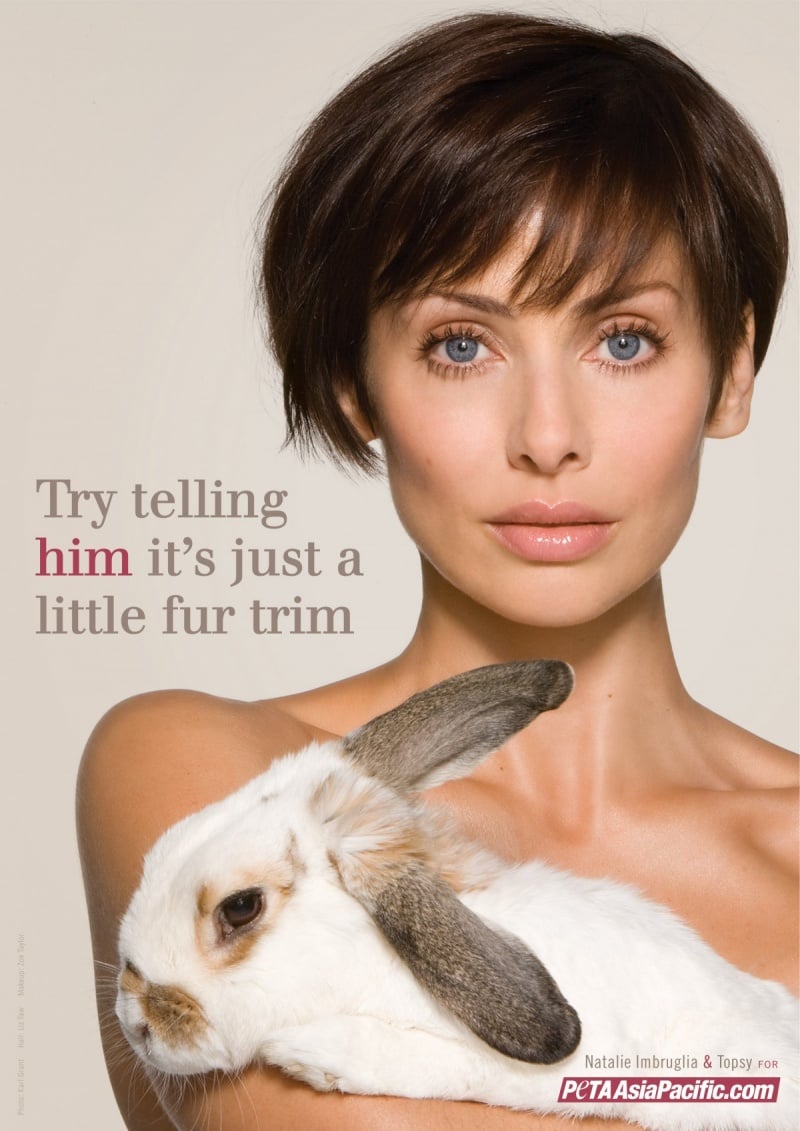 In her blockbuster hit "Torn," Natalie sings about being "bound and broken on the floor." She could have been describing scenes from the undercover video footage obtained on fur farms in China, which shows that animals' heads were smashed against the ground and that animals were still breathing and blinking as they were skinned alive.
Animals on fur farms spend their entire lives confined to cramped, filthy wire cages. Fur farmers use the cheapest and cruelest killing methods available, including suffocation, electrocution, gassing, and poisoning. Much of the fur sold in stores comes from fur farms in China, where millions of dogs and cats are bludgeoned, hanged, bled to death, and sometimes even skinned alive for their fur. Dog and cat fur is often deliberately mislabeled, so if you wear any fur, there's no way of knowing whose skin you're in.
"There is no kind way to rip the skin off animals' backs," says Imbruglia. "Anyone who wears any fur shares the blame for the torture and gruesome deaths of millions of animals each year."
Saving animals is as simple as choosing luxurious faux fur or cozy polyester fleece. Stylish cruelty-free clothing is available in every price range from a growing selection of catalogs, specialty shops, and department stores. Many designers—including Armani, Ralph Lauren, Stella McCartney, Betsey Johnson, Marc Bouwer, and Peter Morrissey—have shunned fur.